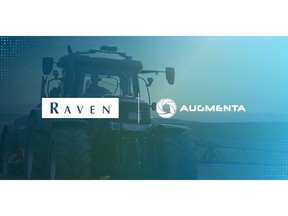 Article content
CNH Industrial acquires machine vision company, adding key components to Raven's autonomous farming technology development
Article content
Sioux Falls, S.D., March 13, 2023 (GLOBE NEWSWIRE) — Raven Industries today announced it will begin the strategic integration of Augmenta after the acquisition of the machine vision company by CNH Industrial (NYSE: CNHI / MI: CNHI), Raven's parent company. This development significantly expands the company's comprehensive automated technologies by adding Sense & Act capabilities for a variety of variable rate crop spraying applications.
Article content
Augmenta's comprehensive variable rate application (VRA) solution uses a real-time sensor to process field conditions and automatically apply the optimal amount of product for nitrogen, plant growth regulator, harvest aid and fungicide applications based on the real-time data it collects. It uses camera vision and artificial intelligence capabilities that are more sensitive than the human eye to automatically control precise application rates, based on factors like canopy health. This maximizes nutrient effectiveness to increase yields while saving inputs to reduce negative environmental impact and input costs. These cost savings are visible in real-time on a web-based analytics and monitoring platform.
Article content
Existing Augmenta technologies plan to be commercially available and offered through Raven aftermarket channels. Raven will develop and fully integrate Augmenta's products into its broader portfolio over the next few years. This investment further demonstrates Raven's commitment to expanding on over four decades of precision ag technology leadership. For example, the company's industry-leading Hawkeye® 2 nozzle control system is already a preferred integration partner for many Sense & Act providers. Integrating Augmenta's solution will allow Raven customers to maximize its value by unlocking Sense & Act functionalities with simple plug-and-play hardware and interfaces. Overall, the addition of vision based VRA to Raven's suite of precision technologies will give current and future customers a complete, easy-to-use package of automated spraying capabilities at a value-based price.
Article content
"Augmenta's unique AI and vision-based perception technologies add a new, distinct value and scalability to Raven's industry-leading technologies," noted John Preheim, Raven Vice President of Product Development. "We look forward to adding innovative Sense & Act capabilities to our products, further driving profitability for our customers."
As a result of the acquisition by CNH Industrial, Augmenta will retain its operations in Greece and the U.S. The organization will become part of Raven, united with the purpose of helping farmers serve the world. Raven and Augmenta share strong commitments to build a more sustainable future by reducing the impact of harmful chemicals in soils and reducing input costs, improving farmers' profitability and long-term viability. Raven will continue to strategically invest in Augmenta's location in Athens, Greece as an innovation hub.
Article content
"We are excited to welcome Augmenta's team of professionals to the Raven team, furthering our market leadership and expertise," shared Eric Shuman, Raven General Manager. "We look forward to working as one team, providing best-in-class service for both current and future customers of the Augmenta solution."
Together, Raven and Augmenta advance development of environment-based perception for optimized variable rate applications, a significant component of Raven's expanding automated technology portfolio. With a strong customer focus, dedication to continuous innovation and expertise in developing class-leading precision agriculture innovation, the combined Raven entity is committed to making farming more sustainable and efficient.
Article content
About Raven Industries, Inc.
Dedicated to advancing farming through technology and innovation, Raven Industries provides innovative, high-value products and systems that help farmers serve the world. For decades, Raven has been committed to maximizing operational efficiencies for growers. Today, its groundbreaking work in autonomous systems is unlocking new possibilities in farming — driving tractors down the field, wirelessly connecting the office and the cab, and protecting the environment with controlled outputs. Raven is a subsidiary of CNH Industrial (NYSE: CNHI / MI: CNHI), a world-class equipment and services company specializing in Agriculture and Construction. To learn more, visit https://ravenind.com.
Attachments

link